Dalat Golden Valley - Lang Biang Mountain Tour
You will visit 8 destinations in a 1-day tour to Langbiang Mountain - Golden Valley
1. Van Thanh Flower Village
The first place we visit in the tour program is Van Thanh Flower Village, which is one of the 3 largest flower villages in Dalat. , you will learn about the flowers and techniques of growing flowers in the greenhouses of Dalat farmers here.
Inside the greenhouse in Van Thanh flower village.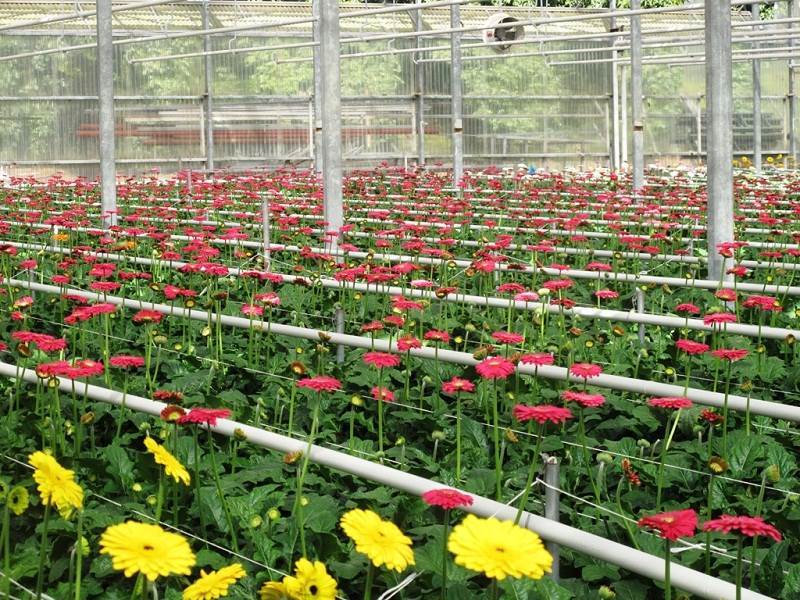 2. Golden Valley
Golden Valley is the second destination in the day tour Dalat, this is a beautiful picnic resort with flowers and nature harmoniously located next to the Golden Lake, to the Golden Valley visitors will Visit Bonsai gardens, suspension bridges, orchid gardens and many other beautiful landscapes. Guests can use the tram service to easily visit the resort or take a walk along the path full of wildflowers here.
A glimpse of the romantic valley of Golden Valley Resort - Dalat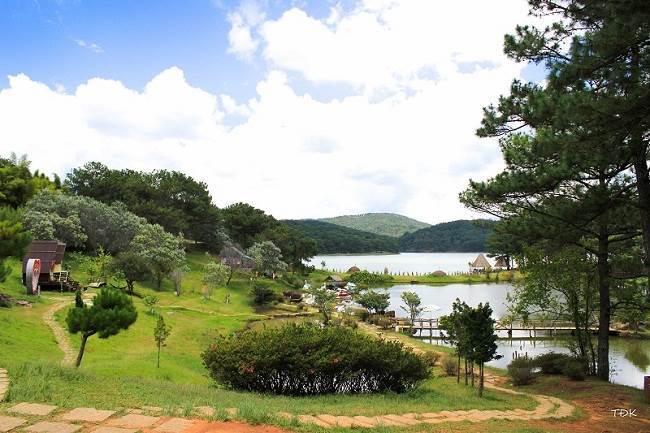 3. Langbiang Mountain

The highlight of the tour is Langbiang Mountain, the peak of the mountain is considered the roof of the Central Highlands with up to 2167m. Come to visit Langbiang Mountain you will take a jeep to go up to the rada peak one of the 3 peaks of Mt. Langbiang to see the panorama of the Golden Lake, Dalat city, enjoy the fresh and cool air of the highlands mountains on above.
Panoramic view of the Golden Stream from Radar Hill, Langbiang Mountain.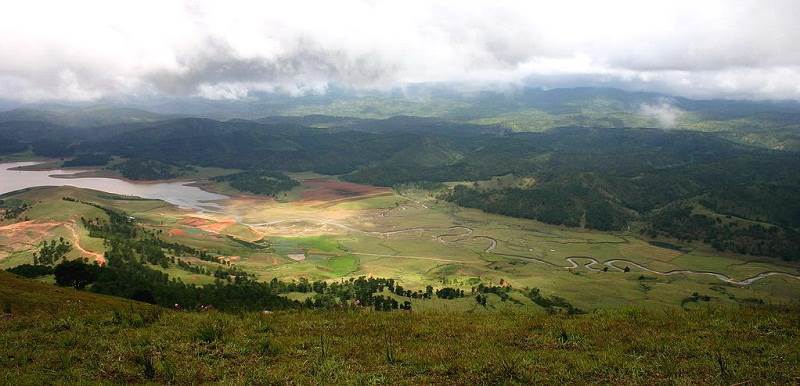 4. Strawberry Garden

The next stop on the Dalat tour 1-day tour to Langbiang Mountain - Golden Valley that is West Strawberry Garden, this is one of the attractive destinations of Dalat tourism in 2016, visitors will be here. Experience hand-picking strawberries in the garden, take a photo shoot and buy fresh strawberries in the garden after picking.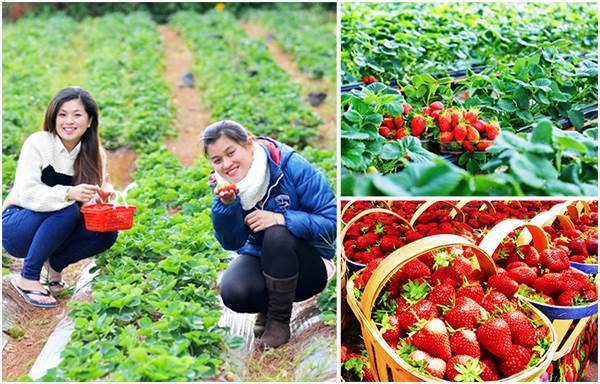 5. Da Lat old railway station

Da Lat old railway station was named one of the oldest stations in Indochina, which still retains a steam engine built in 1930, visitors here will learn about the system. The most unique serpentine railway in Indochina as well as taking photos with the old train
Old steam engine at Da Lat Station.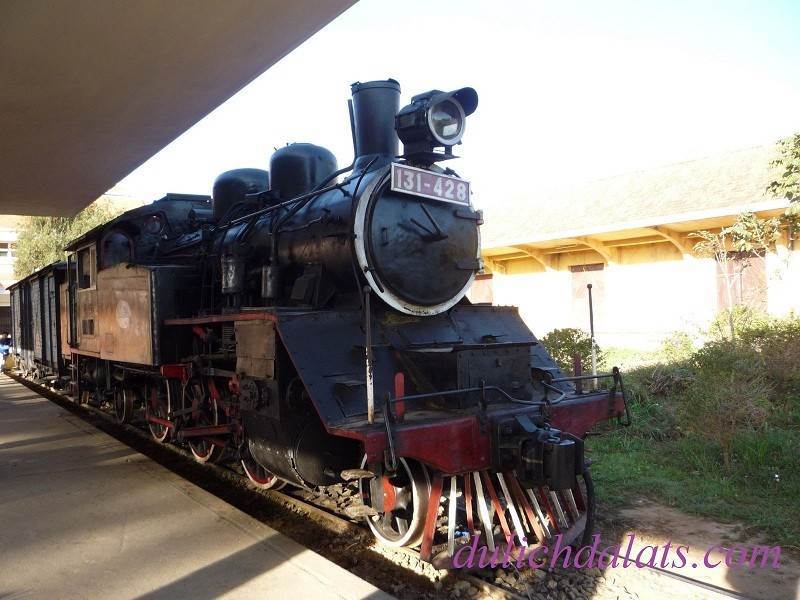 6. Linh Phuoc Pagoda
Linh Phuoc Pagoda, also known as ceramic Pagoda, is one of the largest and most beautiful pagodas in Dalat. Especially attractive to visitors to Linh Phuoc Pagoda that all the statues and columns of the temple are inlaid with pieces of porcelain in mosaic art. In addition, there are works that hold many Vietnamese records such as the largest flower statue of Quan Yin Buddha in Vietnam, the longest golden oak timber in Vietnam,...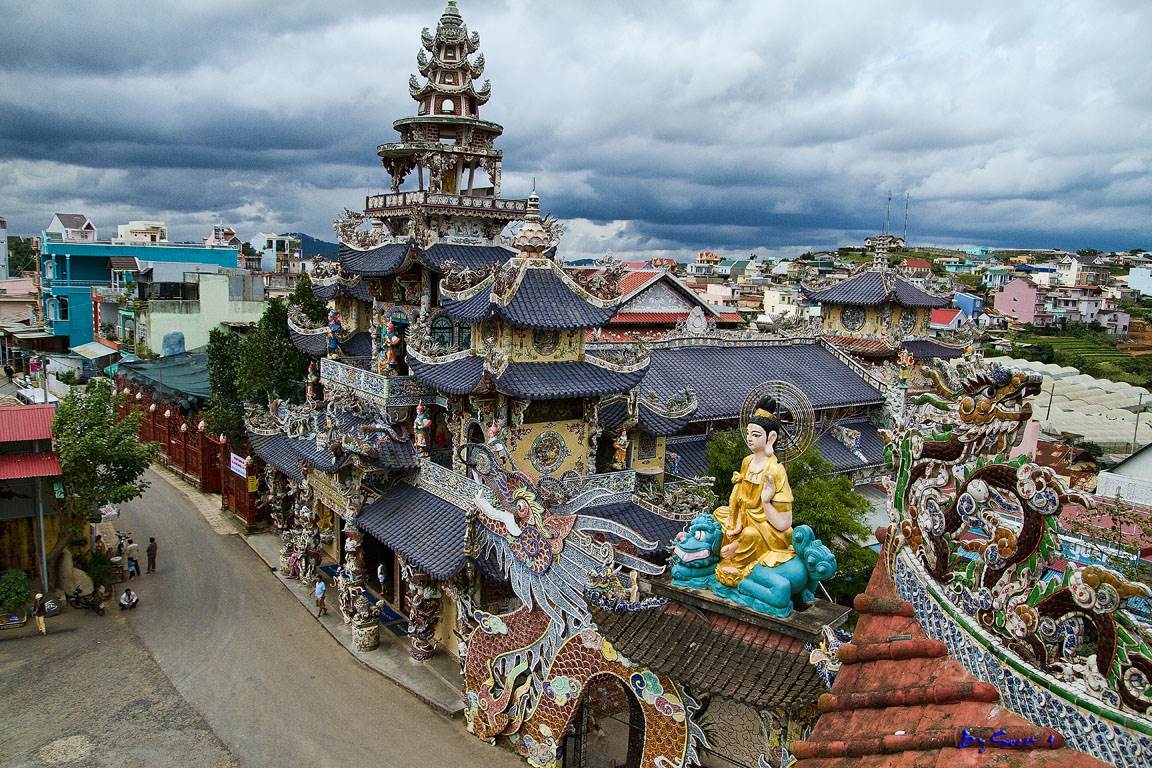 Tour information
price: 40 Usd/person
Private Car
Private Tour Guide
Entrance tickets

Not included:
Lunch cost
Personal expenses
Back to hotel around 16:00.